Post by Reirei on Oct 2, 2014 14:53:58 GMT 7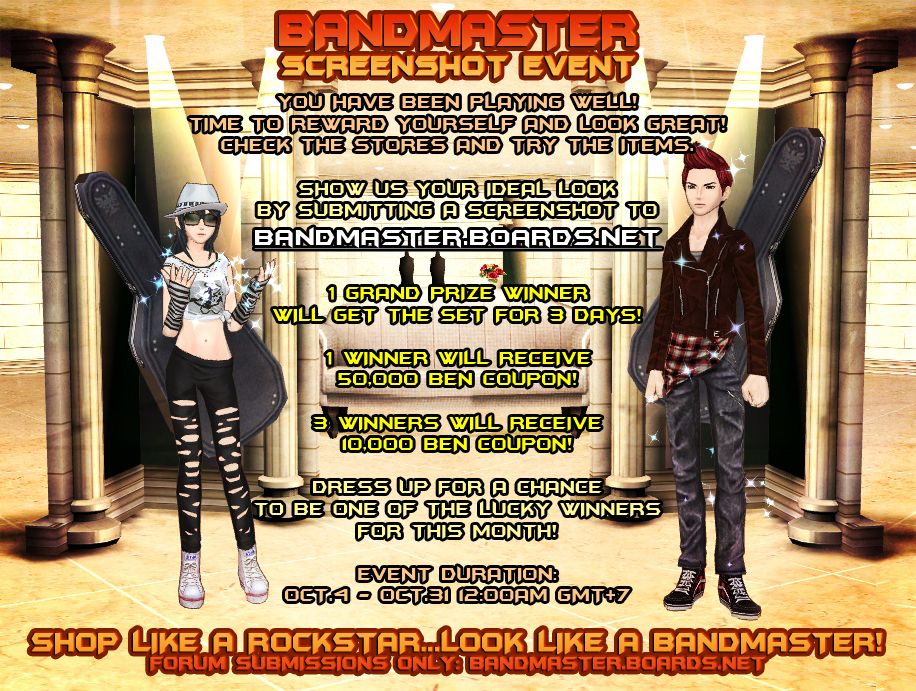 Theme: Your BandMaster Look

"Image is everything for a musician. The right music and the right image are key in making it big in BandMaster. The item mall is here to offer you anything you need. If you look just right, you will get the right musicians to notice you." -
Lena
It's free to try out the items in shop. Check out what we have in store and submit your dream set for a chance to win it!
How to join:

* Take a screenshot (print screen) of your character in the shop wearing any item/set - no instruments.
* Upload the screenshot as an attachment (
here's how
)
* Login/Register in the forum and
POST HERE
with this format:
screenshot: (add attachment)
facebook name:
name in game:
explanation (optional)



Rules:
* Follow the format when posting your entry. Only one screenshot per post.
* You may submit up to 3 entries but you can only win once.
* No edited screenshots. Print screen and check your BandMaster SNAPSHOTS folder.
* Full screenshot must be uploaded - no cropped screenshots - name at the bottom must be shown.
* Only items from the current BandMaster Online shop must be used. Do not include instruments.
* Old screenshots from previous server will be disqualified.
Prize:
Grand Prize winner - Your submitted set for 3 days.
1 Winner of 50,000 ben coupon.
3 Winners of 10,000 ben coupon.Deadline to submit your entries:
October 31 11:00 PM GMT+7
Rewards will be given by November 1.
---
Question: What if I am wearing the exact same thing as the other participant?Answer:
I guess that would be a tie? We will judge based on creativity and overall appeal as a bandmaster. If both of you decided to have the same exact set, both will win if it's a winner set.
Question: I like my current hair and face already. How many items can I try on?Answer:
It's up to you. You can try anything except for the instruments. No instruments must be shown in your screenshot. We just want you to show us how you want your character to look.
Question: I can't decide what I want! Can I submit more set?Answer:
You can submit up to 3 entries. Choose your best look on each entry for a higher chance to win. However, having many entries doesn't mean you will win and you can only win once for a fair chance to others.
Question: I have old screenshots of my character wearing the same items that can be found in BandMaster Online. Can I submit that?Answer:
No. Your character must be present in the current server. Only screenshots from BandMaster Online will be qualified. The only exception to this is if you have the exact same name, same rank and same items.
Question: How do you choose the winner?Answer:
Winners will be based on the overall appeal and creativity. You can add a description to help us understand why you want to look like that but in the end, it's all about the looks as a bandmaster. Winners will be chosen by admins.
Other questions? Comment in Event Discussion.